Napoli Straordinaria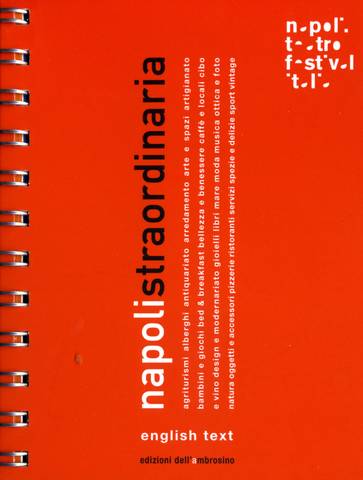 Chiaja Hotel De Charme
VIA CHIAIA, 216 80121 NAPOLI TEL +39 081 41 55 55 FAX +39 081 42 23 44 www.hotelchiaia.it
INFO@HOTELCHIAIA.IT
MEZZI: DALL'AEROPORTO BUS ALIBUS (SAN CARLO). BUS R2 (SAN CARLO)
l'antica Casa Lecaldano
Chiaia Hotel de
Charme, opened in 2001, is made up of two separate structures, the ancient Casa Lecaldano Sasso
la Terza and the historic Casino di Salita Sant'Anna.
Everything here
oozes with old-fashioned charm, from the luxurious period furniture to the portrait of great-greatgrandfather Nicola above the fireplace.
Mimi Fusella, insieme ai nipoti Candida e Pietro, apre l'hotel Chiaja Hotel de Charme nell'agosto del 2001. L'albergo nasce dalla ristrutturazione deH'appartamento che il loro trisavolo, Nicola Lecaldano Sasso la Terza, abitava in via Chiaia, a cavallo tra la fine dell'Ot-tocento e i primi del Novecento. Nel 2000 Mimi, Candida e Pietro danno il via ai lavori e nel 2001 la dimora può finalmente aprire i battenti. Il successo è immediato, già dopo pochi giorni si registra il tutto completo, al punto che i tre soci decidono di acquisire anche un immobile adiacente dove, fino al 1958, trovava posto la più famosa casa di tolleranza della città. Il Chiaja Hotel de Charme è formato oggi da due diverse strutture, L'antica Casa Lecaldano Sasso la Terza e lo storico Casino di Salita Sant'Anna. Qui tutto ammicca alle atmosfere del passato, dalle camere, che portano i nomi degli avi delle cortigiane che le abitarono, al vezzo di utilizzare l'antica dicitura, Chiaja; dai lussuosi arredi d'epoca al ritratto del trisavolo Nicola che dà il benvenuto agli ospiti da una bella cornice barocca sopra al camino.